Things To Do in Carcassonne & Salvaza Airport Layover Ideas
Things to do in Carcassonne if you have a Salvaza Airport Layover or Extended Salvaza Airport Stopover
If you have an extended layover at the Salvaza Airport or staying in town, why not consider getting out with some fun activities? We list a few here and there are many more on
Carcassonne.LayoverIdeas.com
.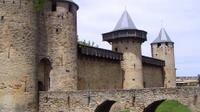 Duration:
2 hours
Priced From:
USD 10.60
Enjoy and discover with a professional guide the main historical facts, particularly the Cathar Crusade, that has changed the military architecture. Stroll on old cobblestone streets and see beautiful views on the surrounding landscape.<br />This tour can be extended with the visit of the Count's castle.<br />To enjoy your tour, please come with comfortable shoes. For people having difficulties with walking, a special tour can be organized (but not suitable for people who are wheelchair confined)... Read More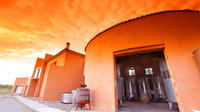 Duration:
90 minutes
Priced From:
USD 28.40
Enjoy an informative tour and a wine tasting<span style='color: rgb(108, 108, 108); font-family: 'Helvetica Neue', Helvetica, Arial, sans-serif; font-size: 14px; line-height: 20px; background-color: rgb(255, 255, 255);'> in a peaceful countryside setting, in the middle of 20 hectares of vines.</span>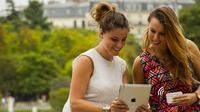 Duration:
Flexible
Priced From:
USD 40.89
You will get the best solution to get the internet throughout your trip in France, with the rental of a personal WiFi hotspot, also called 'Pocket WiFi' or 'MiFi'! You book it before your trip and receive it at your hotel or rental flat everywhere in France. At the end of your rental, you simply return it with the prepaid envelope included.<br><br>The easiest and cheapest way to get on the internet here in Carcassonne. Avoid the frustration of hotel WiFi that is slow and often doesn't work, forget about loosing your contacts and the limits of a French sim card: you own a personal and password protected unit, with unlimited and shareable data.... Read More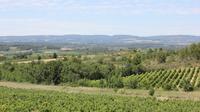 Duration:
Flexible
Priced From:
USD 62.48
Unique thing to do in Carcassonne: Winery visit with the actual winemaker. A food platter, dessert included, wine included.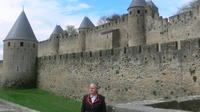 Duration:
Flexible
Priced From:
USD 156.76
<p class='MsoNormal'>Guided Tours are available of the medieval Cité of Carcassonne and Languedoc Roussillon (Cathar Region) either for a small group or a couple.</p> <p class='MsoNormal'>Meeting point is at the main gate Porte Narbonnaise, from there, the story of 'old lady' (2500 years) will be unveiled : its inhabitants, the Cathar crusade in the XIII° century, the new master of the region the king of France...<o:p></o:p></p> <p class='MsoNormal'>Everything from the beginning up to now ( the Roman empire, the crusade, the Restauration by Violet Le Duc...)<o:p></o:p></p> <p class='MsoNormal'>Strolling in the old cobbled streets will lead us to the Castle, then the Church, we will go inside, admiring the beautiful glass windows.</p> ... Read More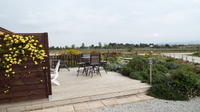 Duration:
1 day
Priced From:
USD 425.97
Discover the diverse flavors of France's Languedoc Rousillon region on this 1-day vineyard visit and wine-tasting experience, with evening meal and overnight stay in Carcassonne. Stroll among the vineyards with your hosts and gain insight into the different grapes thriving in the fertile soils. Visit the barrel room and sample some of the fruity wines in production during tasting sessions. Savor a delicious evening meal of local speciality dishes accompanied by a range of fine wines. Afterward, enjoy a peaceful night's sleep in your en suite double bedroom.... Read More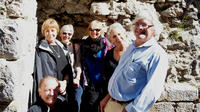 Duration:
7 days
Priced From:
USD 4316.52
Led by a Cathar expert this advanced tour is for academics, experts and aficionados and those who have attended the 'Original' one week tour. You visit sites and discuss topics such as the likely origins of Catharism, primary documents and various academic theories and esoteric traditions about them. This tour in in more depth than the original tour and visits some less well known sites. Our tours are not scripted and time is always allowed for questions. We have been helping visitors explore the Languedoc since 1997. Concierge service offered. <br> ... Read More
More Salvaza Airport Transfer & Airport Connection Options