Things To Do in Chongqing & Chongqing Airport Layover Ideas
Things to do in Chongqing if you have a Chongqing Airport Layover or Extended Chongqing Airport Stopover
If you have an extended layover at the Chongqing Airport or staying in town, why not consider getting out with some fun activities? We list a few here and there are many more on
Chongqing.LayoverIdeas.com
.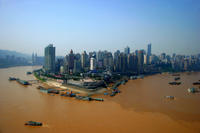 Duration:
4 or 8 hours
Priced From:
USD 30.99
On this private tour of Chongqing, you'll see the city's top attractions with an expert local guide. On your choice of a half-day or full-day tour, you may enjoy views of the Yangtze and Jialing rivers at Eling Park, learn some Chinese culture and history at two museums, visit an ancient Buddhist temple, enjoy a Chinese lunch, and see pandas at the Chongqing Zoo.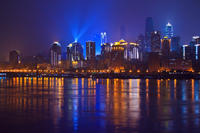 Duration:
3 hours 30 minutes
Priced From:
USD 61.00
During this special evening in Chongqing, relax on a scenic Yangtze River cruise and then admire sweeping views of the illuminated city and mountains from One Tree Pavilion. Your guide will ensure a personalized experience, with private round-trip transportation included.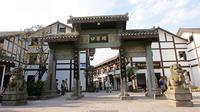 Duration:
10 hours
Priced From:
USD 86.00
Chongqing used to be a provisional capital of China and the largest municipality in southwestern region. It is built in the mountains and partially surrounded by Yangtze and Jialing rivers gaining the reputation of 'mountain city' and 'city of rivers'. The night scene of the city is very illuminated with millions of lights and their reflections on the rivers. Mountains, rivers, forests, springs, waterfalls, gorges, and caves make up unique topography of Chongqing. Today, Chongqing Urban style features a combination of new Skyscrapers and old architectural complex. In this tour, you will travel in this mountainous city and visit classic attractions including Eling Park and Ciqikou Ancient Town as well as tasting spicy Chongqing hot pot. ... Read More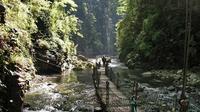 Duration:
9 hours
Priced From:
USD 86.00
Heishan Valley, located in Wansheng, is 75 miles (120 Kilometers) away from Chongqing. 97% of the area is covered by original forests. As an Ecological Scenic Area, it is consist of valleys, gorges, karst caves, waterfalls, forests, and streams. As one of the best preserved natural scenic area, it is also called The Wildlife genome bank of Chongqing and Guizhou by some experts. Chongqing Heishan Valley (Black Mountain Valley) tour covers a distance of 4 miles (6 kilometers) of plank roads and floating bridges as well as 4.5 miles (7 kilometer) distance of electric car route.... Read More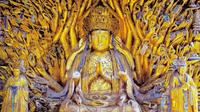 Duration:
9 hours
Priced From:
USD 93.00
Embark on this 9-hour private tour, where you will get to know the the highlights Dazu county. Visit the Beishan Grottoes and Dazu Baoding Grottes with your guide. Observe the Dazu Rock Carvings that date back as far as the 7th century after enjoying a provided lunch.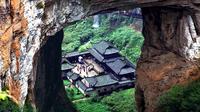 Duration:
11 hours
Priced From:
USD 103.00
Wulong National Karst Park is located approximately 155 mile (250 km) to the South East of Chongqing. Wulong Karst landscape is an amazing natural treasure. It is a cluster of several karst formations consisting of gorges, natural bridges, caves, eroded dolines, shafts, and underground streams. These karst land forms were created in carbonated rocks vividly recording the development and evolution of karst terrain in the three gorges area since Pleistocene Era. Lotus Cave, Three Natural Bridges, and Houping Giant Doline are three major landmark attractions in this area. In one day, you can experience the highlight of Wulong Karst landscape.... Read More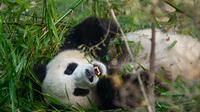 Duration:
4 hours
Priced From:
USD 105.00
This half-day tour will take you to explore some of Chongqing's must-see attractions including the Panda House in Chongqing Zoo and Eling Park. Enjoy a friendly English-speaking guide, private transfer, and hotel pickup and drop-off.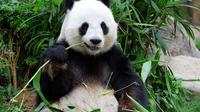 Duration:
8 hours
Priced From:
USD 129.00
Book this full-day tour to explore Chongqing's must-see attractions including the Panda House in Chongqing Zoo, Eling Park, Ciqiko and more. Chongqing Zoo is the largest zoo in south-west China with over 1,000 birds and over 170 species of animals, where you can see those charming native giant pandas. Also go to the Eling Park as the earliest private garden in Chongqing and the Ciqikou, meaning 'Porcelain Harbor' in Chinese, where the community prospered from the porcelain trade.
More Chongqing Airport Transfer & Airport Connection Options