Things To Do in Cluj-Napoca & Cluj-Napoca Airport Layover Ideas
Things to do in Cluj-Napoca if you have a Cluj-Napoca Airport Layover or Extended Cluj-Napoca Airport Stopover
If you have an extended layover at the Cluj-Napoca Airport or staying in town, why not consider getting out with some fun activities? We list a few here and there are many more on
Cluj-Napoca.LayoverIdeas.com
.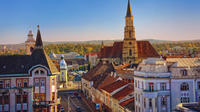 Duration:
5 hours
Priced From:
USD 24.99
Discover step by step the secrets of Cluj-Napoca, proclaimed city of arts and the European Capital of Youth.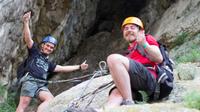 Duration:
Flexible
Priced From:
USD 39.76
Are you looking for a new challenge? An escape from everyone's expectations and the urge to meet your own ones? Try a most exhilarating way of exploring a natural freedom in the Via Ferrata of the Turda Gorges, a climbing path where one of the richest and most scenic karst landscape in Romania is to be found.<br><br>We'll teach you all the necessary techniques, provide you with proper equipment, and we'll set off to an adventure that will allow us to experience the exquisite beauty of the Turda Gorges from a totally different perspective. ... Read More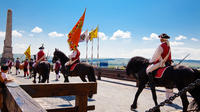 Duration:
8 hours
Priced From:
USD 47.71
One day tour in Cluj-Napoca and surroundings including a Turda salted mine, and Alba Carolina Fortress.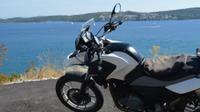 Duration:
Flexible
Priced From:
USD 89.74
Ride the motorcycle to the clouds on the best motorbike roads in Romania. Rent a BMWG650GS motorcycle in Romania and enjoy great rides offering amazing views.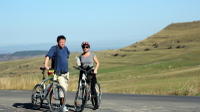 Duration:
Flexible
Priced From:
USD 96.55
Biking the most colourful and decorated ethnographic region in Transylvania. Unique opportunity to discover Calata region on bike with transfer from Cluj.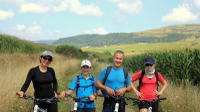 Duration:
Flexible
Priced From:
USD 102.23
Turda Gorge is a natural wonder with skyscraper rocks, caves and cold water river, situated at 30 km distance from Cluj Napoca. It's a favorite place of rock climbers and home of many protected birds and plants. Since 1938 the canyon was declared a nature conservation area.<br><br>Salina Turda is one of the most important tourist attractions of Romania. It is mentioned as a salt mine as early as the 11th century. Its huge halls and underground attractions make Salina the most important tourist-sight of the region. ... Read More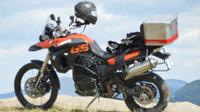 Duration:
Flexible
Priced From:
USD 112.46
Rent a BMW F800GS motorcycle in Transylvania (Romania) and enjoy riding the great winding roads of the region. The motorbike rental is a Water-cooled 4-stroke in-line two-cylinder engine, that will offer immense satisfaction to the rider.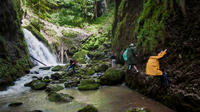 Duration:
3 days
Priced From:
USD 204.47
3 Days of adventure! Padis area is definitely one of the most beautiful regions in Romania. Well known for the large number of interesting caves that attract thousands of tourists, the most imposing and splendid karst formations in Romania such as Cetatile Ponorului (Fortresses of Ponor) – declared a natural monument, and the bucolic landscape with wild horses and haystacks, the whole area is a paradise for those who want both a relaxing and adventurous holiday.
More Cluj-Napoca Airport Transfer & Airport Connection Options