Things To Do in Grand Canyon & National Park Airport Layover Ideas
Things to do in Grand Canyon if you have a National Park Airport Layover or Extended National Park Airport Stopover
If you have an extended layover at the National Park Airport or staying in town, why not consider getting out with some fun activities? We list a few here and there are many more on
Grand-Canyon.LayoverIdeas.com
.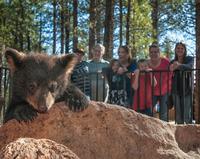 Duration:
Flexible
Priced From:
USD 21.99
During your Grand Canyon vacation, see bears, bison, big horn sheep and more at the family-friendly Bearizona Drive-Thru Wildlife Park. Drive through 3 miles (4 km) of Arizona wilderness in your own vehicle, viewing North American wildlife like black bears and Alaskan wolves! Plus, you can also tour Fort Bearizona, a walk-through area where baby animals and smaller species of wildlife can be seen up close.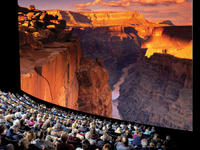 Duration:
34 minutes
Priced From:
USD 24.99
The larger-than-life Grand Canyon IMAX® experience brings the Grand Canyon to life on a giant six-story screen. The Grand Canyon movie traces the canyon's history and, with 12,000 watts of floor-shaking digital surround sound, makes you feel like you're inside the canyon itself.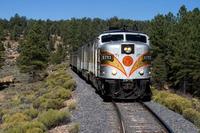 Duration:
8 hours
Priced From:
USD 139.99
Step aboard the Grand Canyon Railway for a trip to the majestic Grand Canyon you'll never forget. Feel the rumble of a vintage train as the engine chugs 65-miles (approximately 105 km) across the beautiful Northern Arizona countryside. The train offers kaleidoscopic views of the San Francisco Peaks and rolls through valleys adorned in wild flowers, dense pine forests, high desert plains and small canyons.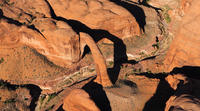 Duration:
35 minutes
Priced From:
USD 144.99
Enjoy the thrill of an airplane flight over Rainbow Bridge National Monument and Lake Powell in a comfortable airplane with panoramic windows. Sit back and admire views of Utah's Rainbow Bridge National Monument — one of the world's largest natural arches — and Lake Powell, a placid reservoir created by Glen Canyon Dam. In-flight narration provides facts and history on these popular sights as you capture photos. This short, scenic tour departs from Page, Arizona — about 140 miles (225 km) away from the Grand Canyon. ... Read More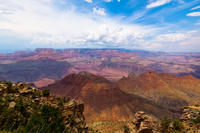 Duration:
40 minutes
Priced From:
USD 149.99
See some of the most striking scenery the Grand Canyon has to offer on this morning or afternoon fixed-wing airplane flight. Soar over the eastern part of the canyon, admiring Zuni Point, the Desert View Watchtower, Point Imperial, the Painted Desert and the Kaibab National Forest. Take advantage of once-in-a-lifetime photo opportunities as in-flight narration provides facts, figures and historical anecdotes about the sights you see. This scenery-packed tour provides an excellent overview of the Grand Canyon in a short amount of time. ... Read More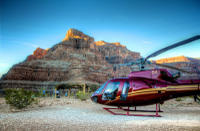 Duration:
Varies
Priced From:
USD 164.99
Experience one of America's most beautiful natural attractions from the air on a helicopter tour of the Grand Canyon's West Rim. View the canyon in all its breathtaking glory as well as the Colorado River. If you choose to upgrade your flight, you can land in the depths of the canyon and explore on foot, or travel down the Colorado River on a pontoon boat. Whether by air, land or water, you'll get an up-close look at the Grand Canyon's vibrant colors and stunning rock formations.... Read More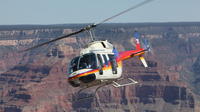 Duration:
30 minutes
Priced From:
USD 198.99
If you're heading to the Grand Canyon National Park, but want to see more - this is the tour for you! Make your own way to the heliport and board your 25-30 minute flight through the canyon for views of the Northern rim. You can upgrade your tour to include a jeep tour of the Grand Canyon National Park.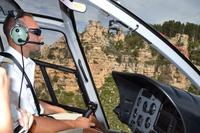 Duration:
25 minutes
Priced From:
USD 224.99
Depart from the Grand Canyon airport in Tusayan, Arizona for an exhilarating 25-minute scenic flight out of the South Rim of the Grand Canyon over the Kaibab National Forest. Aboard the state-of-the-art ECO-Star helicopter, enjoy breathtaking views through wraparound windows as you fly over the mighty Colorado River towards the Canyon's North Rim. See the Tower of Ra and Vishnu Schist as you fly back through the Dragon Corridor, the widest and deepest section of the Grand Canyon. <span class='vSpecial'><p>
Special Offer - Book and save 11% compared to the local supplier's prices! - Book Now!</p></span> ... Read More
More National Park Airport Transfer & Airport Connection Options