Things To Do in Innsbruck & Innsbruck Airport Layover Ideas
Things to do in Innsbruck if you have a Innsbruck Airport Layover or Extended Innsbruck Airport Stopover
If you have an extended layover at the Innsbruck Airport or staying in town, why not consider getting out with some fun activities? We list a few here and there are many more on
Innsbruck.LayoverIdeas.com
.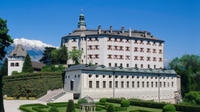 Duration:
60 minutes
Priced From:
USD 7.95
Visit beautiful Castle Ambras in Innsbruck, a Renaissance castle and palace located in the hills overlooking the city. Explore the picturesque Renaissance castle, one of Innsbruck's most popular attractions, and also see the precious art collections and magnificent grounds with your entrance ticket.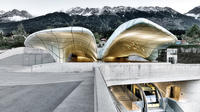 Duration:
Flexible
Priced From:
USD 9.09
The journey begins at 560 m above sea level not far from the heart of Innsbruck's old town with its historical buildings and the world-renowned 'Goldenes Dachl' (Golden Roof). Planned and designed by star architect Zaha Hadid, the cable car Hungerburg, with its unique stations Löwenhaus and Alpine Zoo, sets new standards in international architecture.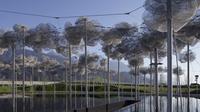 Duration:
3 hours
Priced From:
USD 21.58
Visit Swarovski Crystal Worlds and discover crystal becoming a complete experience. Enjoy a world of fantasy that has delivered moments of wonder to more than twelve million visitors and is listed #36 of "52 places to go in 2016" by New York Times. Explore a mix of art and culture, entertainment and shopping and see various attractions for all ages. For fans of crystal and connoisseurs of art making, Swarovski Crystal Worlds is a unique attraction.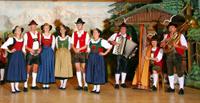 Duration:
Show lasts 1.5 hours
Priced From:
USD 32.94
Clap along to traditional Tyrolean folk dancing and music on a raucous evening in Innsbruck! Taking place inside the family-run Sandwirt Restaurant, the show features dancing by the friendly Gundolf family, as well as cow-bell ringing and jigs aplenty. Want to experience hearty Austrian cuisine, too? Then upgrade to include a 3-course Tyrolean feast, featuring local delights like wiener schnitzel.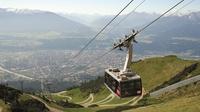 Duration:
Flexible
Priced From:
USD 36.35
Enjoy this round trip to the Nordkette, and experience the panoramic views it will offer you. The new Innsbrucker Nordkettenbahnen will transport you directly from the city center of Innsbruck to high mountain terrain in just twenty minutes.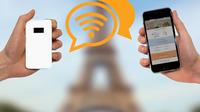 Duration:
Flexible
Priced From:
USD 86.33
Enjoy unlimited internet everywhere in Innsbruck (and rest of Austria) with 4G-LTE Pocket WiFi. Stay connected anytime and avoid data roaming charges for your next travel in Innsbruck.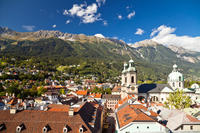 Duration:
Varies
Priced From:
USD 118.14
Combine your love of food and your passion for culture with this Innsbruck sightseeing package. With your 48-hour Innsbruck Card, enjoy free public transport and discounts on select activities and attractions such as Tratzberg Castle and Swarovski Crystal World. Tantalize your taste buds with coffee and Sacher cake at Café Sacher Innsbruck, followed by a 3-course dinner at a popular Austrian restaurant.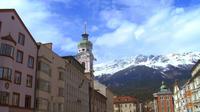 Duration:
4 hours
Priced From:
USD 203.89
Spend a half day in Innsbruck with your private tour guide – just you and your tourguide. With your private tour guide, you will walk first through the old town of Innsbruck where you will see the emblem called "golden roof", the Imperial castle, the cathedral and the buildings of the old town. A short climb by cable car to the local peak 'Hungerburg' will give you a great view to the surrounding mountains and the Tyrol area. On return, you continue by public bus to Wattens, the place of Swarovski Crystal world exhibition. After the stay at the Crystal world, you'll travel back to Innsbruck with your tour guide.... Read More
More Innsbruck Airport Transfer & Airport Connection Options