Things To Do in Jakobshavn & Jacobshavn Airport Layover Ideas
Things to do in Jakobshavn if you have a Jacobshavn Airport Layover or Extended Jacobshavn Airport Stopover
If you have an extended layover at the Jacobshavn Airport or staying in town, why not consider getting out with some fun activities? We list a few here and there are many more on
Jakobshavn.LayoverIdeas.com
.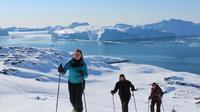 Duration:
2 hours
Priced From:
USD 92.26
It is winter and the snowcapped scenery offers you the chance to enjoy these amazing views: Let's go snowshoeing!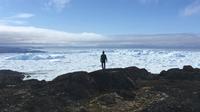 Duration:
5 hours
Priced From:
USD 129.17
Do you want to experience the Greenland's spectacular nature out of the tourist marked circuits?<br><br>Join us and enjoy the most exclusive views of the Kangia and the Ice Cap all along an exciting route that navigates among lakes, mountains and dramatic cliffs. With this exclusive hike you have the chance to spot arctic wildlife!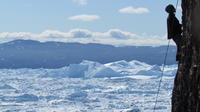 Duration:
2 hours 30 minutes
Priced From:
USD 146.08
This privileged spot for your 2.5-hour rock climbing tour offers a wide range of difficulties and has amazing views of the Kangia Icefjord and is famous for its icebergs. The mixed climbing route is always guaranteed fun for all skill levels and offers spectacular views of Ilulissat and Disko Island. To guarantee the safety and quality of the session, every activity is limited to 3 people per guide. We teach you the basic techniques and the safety protocols for climbing. We also provide all the equipment that is required so you have nothing to worry about and everything to enjoy on this unique activity in Ilulissat. ... Read More
Duration:
3 hours
Priced From:
USD 146.08
Are you looking for an exciting and active day in Ilulissat? Take the challenge of climbing the vertical ice! Holding your weight on crampons and swinging the ice tools, this is by far one of the wildest ways to enjoy Greenland. Nonetheless this activity has utmost safety standards and very experienced guides.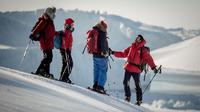 Duration:
4 hours
Priced From:
USD 152.23
During the winter in Greenland, the snow and ice cover the trails in the popular hiking routes, offering an unbeatable scenery. The most safe and comfortable way to hike in these conditions is using a pair of snowshoes and with a local guide that knows the area.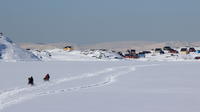 Duration:
3 hours
Priced From:
USD 207.59
Be an arctic adventurer and ride the old snowmobile track across the frozen sea to reach Oqaatsut: an authentic Inuit settlement (where less than 40 hunters and fishermen live all year around). This 3-hour tour includes heart-pumping snowmobile riding, and snacks and coffee/tea at a the settlement.
More Jacobshavn Airport Transfer & Airport Connection Options