Things To Do in Bilbao & Bilbao Airport Layover Ideas
Things to do in Bilbao if you have a Bilbao Airport Layover or Extended Bilbao Airport Stopover
If you have an extended layover at the Bilbao Airport or staying in town, why not consider getting out with some fun activities? We list a few here and there are many more on
Bilbao.LayoverIdeas.com
.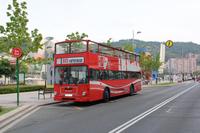 Duration:
1 day
Priced From:
USD 15.90
Look at Bilbao from a different point of view. Hop on a double-decker bus and discover the highlights of the city.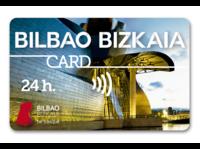 Duration:
Flexible
Priced From:
USD 34.08
See Bilbao and beyond with a Bilbao Bizkaia Card and Sightseeing Pass. Choose between a 24-, 48- or 72-hour pass and gain cash-free entry to top Bilbao and Biscay region attractions including the Guggenheim, Bilbao Fine Arts Museum and Loizaga Tower. This pass gives you the flexibility to set your own schedule and comes with a guidebook, complete with maps. Activities such as walking tours and winery visits are also included, as is unlimited access to public transport and discounts at select shops and restaurants.... Read More
Duration:
90 minutes
Priced From:
USD 56.80
<div>Enjoy sightseeing with a different in the city of Bilbao whilst running. <span style='line-height: 1.5;'>This way you can combine your training with a visit to Bilbao. Tours can be customized - this way you can jog or run at your own pace with time to enjoy the sights that interest you.</span> </div>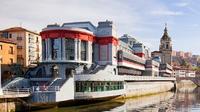 Duration:
Flexible
Priced From:
USD 67.02
Discover the medieval Bilbao, affectionately called the Casco Viejo or the Seven Streets, squares and other charming places. Witness the intense trading and port activity that made the village grow. With an expert guide, travel back in time to the 6th century and visit ancient landmarks like the Cathedral of Santiago and Plaza Nueva.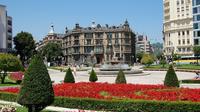 Duration:
Flexible
Priced From:
USD 67.02
After demolishing the walls of the villa, the bourgeoisie begins to expand , crosses the bridge and built in the central Via of the modern city . Meet the families who lived in the great palaces of the Gran Via . The progress of the villa seen from we pass the bridge to the new buildings of the twentieth century. Meet the traditional txikiteo or poteo hand. Explore the most traditional bars in the area.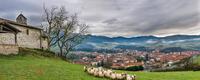 Duration:
5 hours
Priced From:
USD 85.19
Discover the most inner areas of the Basque Country - rural villages, palaces, historical buildings and a breathtaking landscape. The essence of the unique land with old Basque family palaces, the oldest university of the Basque Country, the Sanctuary of Arantzazu, are among some of the locations that are yet to be discovered.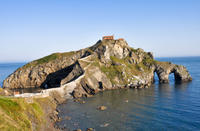 Duration:
5 hours
Priced From:
USD 85.19
Follow the river road of Bilbao towards the coast and admire the old industrial areas that once powered Bilbao. You will visit the Transporter Bridge of Bizkaia, the oldest bridge of this type in the world, still active and a very much loved icon for the locals.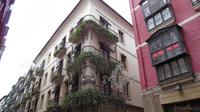 Duration:
3 hours
Priced From:
USD 85.19
We know that part of the Villa de Bilbao, as it is created , its walls and its people. After demolishing the walls of the Villa , the bourgeoisie Start a spread , crosses the bridge and Edifica in the center of the Milky modern city . Meet the families who lived in the great palaces of the Gran Vía. The progress of the villa looks Since we pass the bridge to the new buildings of the twentieth century . Meet the traditional txikiteo or poteo hand - North Explore More Traditional naked in the area.... Read More
More Bilbao Airport Transfer & Airport Connection Options