Things To Do in Chattanooga & Chattanooga Metropolitan Airport Layover Ideas
Things to do in Chattanooga if you have a Chattanooga Metropolitan Airport Layover or Extended Chattanooga Metropolitan Airport Stopover
If you have an extended layover at the Chattanooga Metropolitan Airport or staying in town, why not consider getting out with some fun activities? We list a few here and there are many more on
Chattanooga.LayoverIdeas.com
.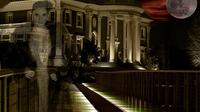 Duration:
105 minutes
Priced From:
USD 15.95
This tour has been named one of the TOP TEN ghost tours in the US by both TripAdvisor AND USA Today! Explore downtown's most haunted locations, hear documented tales of the city's ghosts as well as some of the area's more entertaining history, and find the best places for ghost photos on this walking ghost tour. Tours are conducted by some of Chattanooga's best actors and storytellers, and while geared towards adults, children not overly frightened by tales of true hauntings love the tour as well. ... Read More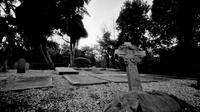 Duration:
90 minutes
Priced From:
USD 20.00
A cemetery hunt is for the more adventurous adult who wants an experience rather than stories. This tour will take you on a ghost investigation through UTC's campus and Citizens Cemetery, utilizing equipment you've seen on television, such as ghost meters, temperature guns, Mel meters, laser grid lights, a parascope, and more, including the talking Ovilus X, which allows communication in real time. Don't forget your cameras- many guests have captured ghostly images including faces and full forms, and your guide will point out the best spots for photos.... Read More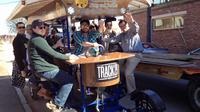 Duration:
2 hours
Priced From:
USD 25.00
Chattanooga locals providing Chattanooga's Original Pedal Tour! Come see all that our Downtown and the Southside has to offer in a unique & fun way!  You will have the chance to leisurely pedal with up to 15 of your friends (or make new ones!) and visit some of the best spots in Chattanooga! We worked with the city and now you can legally bring beer on the bike! Our quality, hand-crafted  American made bike is made of super lightweight materials for easy pedaling. Pints and Pedals is the ideal choice for your party on wheels!... Read More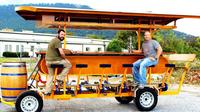 Duration:
2 hours
Priced From:
USD 25.00
Pedal pub that shows you the night life of Chattanooga. Go to several different bars or just drink on the brew choo with whatever beer you want to bring! No liquor, wine or glass bottles. There is a minimum 5 travelers required to put the pedal pub in motion.
More Chattanooga Metropolitan Airport Transfer & Airport Connection Options