Things To Do in San Sebastian & San Sebastian Airport Layover Ideas
Things to do in San Sebastian if you have a San Sebastian Airport Layover or Extended San Sebastian Airport Stopover
If you have an extended layover at the San Sebastian Airport or staying in town, why not consider getting out with some fun activities? We list a few here and there are many more on
San-Sebastian.LayoverIdeas.com
.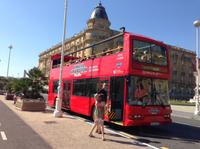 Duration:
1 day
Priced From:
USD 13.63
There is no better way to see San Sebastián than on a double-decker, hop-on hop-off bus! See top San Sebastián attractions on this comprehensive sightseeing tour, such as Miramar Palace, Playa de la Concha beach and much more. The buses are open top, allowing you to enjoy 360-degree panoramic views as you travel along your route. Hop on and off as many times as you like at any of the 29 stops around the beautiful Basque city for 1 day of sightseeing!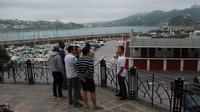 Duration:
Flexible
Priced From:
USD 34.08
Enjoy a nice walk through our city's most emblematic areas.Meet San Sebastian's most interesting spots by walking across its historic area! Join our local guides and do not miss any of the secrets that this emblematic city hides, learning every detail of its buildings and its people. This activity includes a pintxo round in a traditional bar in La Parte Vieja, the Old Town!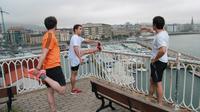 Duration:
2 hours
Priced From:
USD 34.08
If jogging is as healthy as can be, can you imagine doing it whilst enjoying La Concha Bay's astonishing views? Run across San Sebastian's three beaches, stopping in every interesting spot, to combine two genuine pleasures: run and see San Sebastian. Put on your trainers and join us. A recovery pack is included after such an effort!
Duration:
90 minutes
Priced From:
USD 34.08
The Run For Fun tour will take you all along the coast of San Sebastián. We will cross the three urban beaches of the city, while we experience how each of them means something different to inhabitants and how each district has its own character. We will feel the most relaxing part of the city, where locals go to forget about everyday work by feeling the braveness of the ocean. This is also the sunbathing area of San Sebastián, as well as the sporty area of the city, where runners, bikers and walkers go to spend their leisure time. ... Read More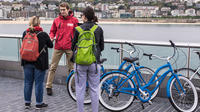 Duration:
2 hours 30 minutes
Priced From:
USD 45.44
<div style='text-align: justify;'><span style='line-height: 1.5;'>What do you get when you mash up history, art, and culture, add a sprinkling of beaches and palaces, and mix it all up with some Basque charm on two wheels? On this bike tour you will ride all through San Sebastián. You will be taken through </span>neighborhoods<span style='line-height: 1.5;'>, from the touristy areas full of history to the workers district.</span></div>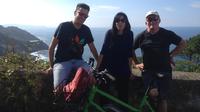 Duration:
3 hours
Priced From:
USD 45.44
<p>Do you know riding a bike? Then you know riding an electric bike! Enjoy this tour provided by Orbea electric bikes that help us show you some spots off the beaten track, go up some hills without sweating and discover the districts further away from the city centre.</p> <p> </p>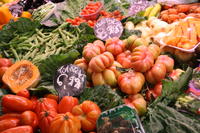 Duration:
3 hours
Priced From:
USD 55.66
Learn about the world-famous Basque cuisine from two food-loving locals on this 3-hour cooking class in San Sebastián. Get a glimpse of daily life in the Basque Country during this intimate afternoon of cooking and conversation at a private family home in Antiguo. Learn about the region from your knowledgeable hosts and trade culinary tips while helping to create a delectable feast. Afterward, sit down at their table and tuck into the mouthwatering Basque meal. Enjoy personal attention on this small-group tour, limited to just six people. ... Read More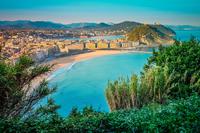 Duration:
5 hours
Priced From:
USD 62.48
Leave San Sebastián and explore the Way of St James (Camino de Santiago), a medieval Christian pilgrimage route that overlooks the breathtaking Basque Coast. Known for its poetic views, the trail hugs the side of Ulia Mountain – an area of unspoiled natural beauty – and the tour includes a leisurely paced hike along its most scenic stretch. Enjoy a boat ride around Pasaia San Pedro, relax in a terrace bar near Santiago Square with Basque tapas and local wine, and finally explore Pasaia village. ... Read More
More San Sebastian Airport Transfer & Airport Connection Options