Things To Do in Yogyakarta & Adisucipto Airport Layover Ideas
Things to do in Yogyakarta if you have a Adisucipto Airport Layover or Extended Adisucipto Airport Stopover
If you have an extended layover at the Adisucipto Airport or staying in town, why not consider getting out with some fun activities? We list a few here and there are many more on
Yogyakarta.LayoverIdeas.com
.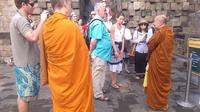 Duration:
10 hours
Priced From:
USD 39.00
Yogyakarta (often called 'Jogja'), the cultural hub of Indonesia, which has amazing archaeological and historical sites such as Borobudur Temple, Prambanan Temple,  and other hundreds ancient's sites. Let's explore these great places on this cultural tour together!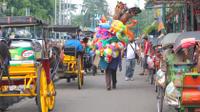 Duration:
4 hours
Priced From:
USD 63.00
This would be your chance to experience a tour that is also healthy! Yes, you will be provided a bike to ride on part of this journey, as you explore the city called Kotagede with its signature silver craftsmanship. Later on you will also be guided to visit a royal cemetery called Imogiri, and a chocolate factory to experience some delicious sweets.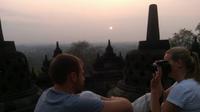 Duration:
10 hours
Priced From:
USD 67.00
Let's explore part of Java island by visiting the Majestic Buddhist temple Borobudur at early morning to see the sunrise and visiting the other two important temples nearby. Afterwards, we drive to the slope of Merapi volcano to have a lava tour by Jeep.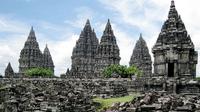 Duration:
4 hours 30 minutes
Priced From:
USD 71.25
This tour will start from Prambanan village to the Prambanan Temple. The Hindu temple of the "slender virgin", also known as a complex of Lorojongrang, was erected in the 9th century while Java was ruled by the Hindu Sanjayas of Old Mataram in the north. It consists of 3 major temples/shrines in the main area dedicated to respected Hindu's God Trinity such as Candi Shiva Mahadeva, Candi Brahma & Candi Vishnu. Enough time is given to walk around and observe the beautiful carvings and the neighborhood shrines such as the Candi Palosan and The Candi Sewu. The Ramayana story is carved into the walls of the temples.... Read More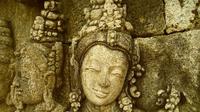 Duration:
4 hours
Priced From:
USD 72.50
You will visit the most spectacular and world's biggest Buddhist monument complex, Borobudur, built around 800 A.D. Looming out of a patchwork of bottle-green paddies and swaying palm tops, this colossal Buddhist relic is one of the continent's marvels. After the decline of Buddhism and the shift of power to East Java, the monument was abandoned soon after its completion.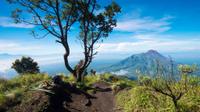 Duration:
8 hours
Priced From:
USD 75.00
Feeling adventurous? Hiking the world famous volcano Mt. Merapi surely is a great choice. There will be a guide for this soft hike, and later on you will be able served the signature local cuisine at local restaurant.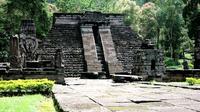 Duration:
9 hours 30 minutes
Priced From:
USD 88.75
This tour will lead you to the ancient capital of Java, Solo (Surakarta). You will be picked up from the hotel and drive around 1 hour to Solo. Upon arrival in Solo, you will continue to visit the Pura Mangkunegaran, which is located in the city center. This royal palace dates back to 1757. Afterwards, proceed to visit the famous ever-crowded textile market Pasar Klewer.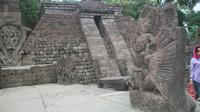 Duration:
Flexible
Priced From:
USD 98.40
Visit Sukuh and Cetho Temples on this full day small group tour from Yogyakarta. Sukuh and Cetho temples are the most recent temples built in Central Java. They were built by the last Hindu King before the conversion to Islam. Brawijaya V was the last Hindu King who retreated to the foot of Mount Lawu and built these two temples. The unique location and ornaments leads you to query the hidden story and history of the temples.
More Adisucipto Airport Transfer & Airport Connection Options