Things To Do in Kiev & Boryspil Airport Layover Ideas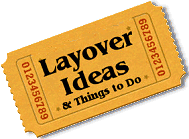 Things to do in Kiev if you have a Boryspil Airport Layover or Extended Boryspil Airport Stopover
If you have an extended layover at the Boryspil Airport or staying in town, why not consider getting out with some fun activities? We list a few here and there are many more on
Kiev.LayoverIdeas.com
.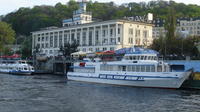 Duration:
2 hours
Priced From:
USD 10.00
Your journey along the River Dnipro begins at River Port where you'll board the ship for a sightseeing cruise.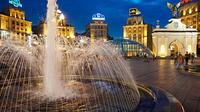 Duration:
2 hours
Priced From:
USD 11.36
Enjoy a 2-hour walking tour of the central part of Kiev, from Kreschatik Park and Maidan to the Besarabsky Market and Arena Entertainment Center, with a friendly local guide. You will learn various facts about the historical and recent events of the city life and see many popular tourist attractions. If you're visiting Kiev for the first time, this tour is an excellent opportunity to feel the joyful and engaging ambiance of the Ukrainian capital.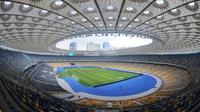 Duration:
40 minutes
Priced From:
USD 17.04
You have a great chance to visit NSC "Olimpiyskiy" and feel a breathtaking atmosphere of the largest Ukrainian football stadium. All football fans are welcome to explore an incredible arena that hosted a final match of UEFA Euro 2012!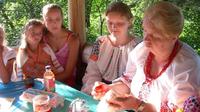 Duration:
2 hours
Priced From:
USD 18.17
Learn the art of traditional Ukrainian Easter Eggs painting on 2-hour private workshop. Under the guidance of a professional artist, you will create your own beautiful Pysanka and take it home with you as an exclusive souvenir from Ukraine. This workshop is an excellent chance to feel the Ukrainian traditions while you are visiting Kiev.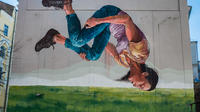 Duration:
3 hours
Priced From:
USD 22.72
Discover Kiev Mural Art and other hidden spots of Kiev with an entertaining guide. Kiev is among the top cities to uncover the fascinating mural art together along with Berlin, Rio De Janeiro, Buenos Aires, Mexico City or Cape Town. Discover Mural Art of Fintan Magee, Francisco Rodrigues da Silva, Interesni Kazki and other artists during this tour.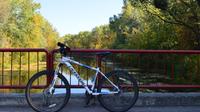 Duration:
2 hours 30 minutes
Priced From:
USD 28.40
An exciting 2,5-hour bike tour will allow you to relax and explore fascinating Kiev attractions. Cycling from the center of the city to the green zone on the Trukhaniv Island, you will admire picturesque views of Kiev, see the panorama of the Dnieper River from the pedestrian Bridge and enjoy a comfortable and positive ride with a friendly local guide.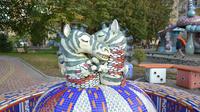 Duration:
90 minutes
Priced From:
USD 28.40
A magnificent Landscape Alley in Kiev is the exact place where beauty of nature combines with gorgeous monuments and sculptures in a single magical place. A stunning park welcomes you to learn its history and enjoy a great 1,5 hour walking tour through the picturesque Landscape Alley. Amazing and unique sculptures, fountains and an unforgettable Dnieper River panorama will make this tour extremely enjoyable!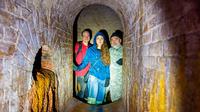 Duration:
Flexible
Priced From:
USD 31.00
<p>During Kyiv underground tour you will explore drain system 'Mykilska (or Nikolskaya)', almost entirely built in 1916, is the oldest part of more than 50-kilometer-long Kiev draining system. It is the best tour to get acquainted with urban subterranean exploration. Torches and our seasoned guides will illuminate your path in the dark, and turn the trip into your personal memorable achievement.<br />This guided tour will add a new dimension of the world you live, and make your urban life horizons wider…or, more precisely, deeper. </p>... Read More
More Boryspil Airport Transfer & Airport Connection Options