Things To Do in Toronto & Toronto Pearson Airport Layover Ideas
Things to do in Toronto if you have a Toronto Pearson Airport Layover or Extended Toronto Pearson Airport Stopover
If you have an extended layover at the Toronto Pearson Airport or staying in town, why not consider getting out with some fun activities? We list a few here and there are many more on
Toronto.LayoverIdeas.com
.
Pearson Airport is Canada's largest and busiest airport and is well equipped to keep travellers busy during lengthy layovers. If you prefer to leave the airport and experience some of your transit city, you can stash your luggage with Travel Store in terminals 1 and 3.
Distillery District
If you are looking to experience something unique to Toronto, why not head down to the Distillery district. This area, painstakingly restored to lure you into Victorian times, is the heart of Toronto's art, culture and entertainment. Opened in 2003 the Distillery District is sure to have something to offer for everyone. If you are short on time and don't know where to start you can take an organised tour which will immerse you in the areas history for the hour long tour.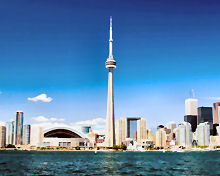 CN Tower
As the tallest free standing structure in the Western Hemisphere and the second tallest in the world, the CN tower is a sight to behold. Located in downtown Toronto, the CN tower is certainly worth the journey from YYZ Toronto Pearson International Airport, you can hop in the Sky Pod and be carried up to the 447metre level for a breathtaking 360 degree view of Toronto, or you can relax while taking in the view from the revolving restaurant with exquisite food and an unbelievable dining experience.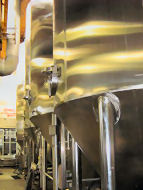 Steam Whistle Brewery
If you are keen to discover how Canada's Premium Pilsner is made why not take a tour of the Steam Whistle Brewery. Located not far from the CN Tower in downtown Toronto, this could make for an interesting diversion from awaiting your onward flight. On a tour of the brewery you will learn why it was designated one of Toronto's 'Green Buildings' and about their railway history. Definitely something to keep in mind if you are on a layover at YYZ Toronto Pearson International Airport.
Woodbine Shopping Centre and Fantasy Fair
Woodbine Shopping Centre has a bit of everything from fine dining eateries to fast food, haute couture to family stores and, if you prefer to kick back with a movie, you can do that here too. On top of all this shopping madness there is also the Fantasy Fair which will keep children and adults entertained for hours. Note that the Woodbine Centre is located in nearby Etobicoke (not Toronto).
Art Gallery of Ontario
The Art Gallery of Ontario is the largest art gallery in Canada, recently redesigned by architect Frank Gehry. It has a great Canadian paintings exhibit and the world's largest collection of Henry Moore sculptures. The European paintings exhibit has a few excellent pieces and it has one of the world's most expensive paintings on view (including Ruben's The Massacre of the Innocents). Closed Mondays.
Royal Ontario Museum
The Royal Ontario Museum is one of the better and larger museums in North America. The original building was built in 1910, and is a handsome romanesque revival, with many carvings of people and events. The newer addition is a large deconstructivist crystal, made of steel and glass. Thousands of artifacts and specimens are featured in over 20 exhibits; including dinosaurs, Ancient China, native Canadians, medieval Europe, art deco, ancient Egypt, textiles, middle east, India and Pacific islanders. The world's largest totem pole, which is over 100 years old, is also housed in a place of honour.

As always, make sure you leave plenty of time to get back to the Pearson Airport in time for your connecting flight. Enjoy your transit city rather than whiling away the time leaning up against your luggage in the departures lounge.
Toronto Attractions
Duration:
Flexible
From:
USD 18.63
Spend the day at LEGOLAND Discovery Centre Toronto for 15 action-packed attractions that encourage the whole family to build, play and learn in the LEGO realm. Try engineering a LEGO tower to survive an earthquake; identify models of some of Toronto's popular landmarks in MINILAND; or learn how LEGO bricks are made in the LEGO Factory. And don't miss the 4D cinema for a movie like nothing else!Special Offer - Book and save 11% compared to the local supplier's prices! - Book Now!
---
Duration:
60 minutes
From:
USD 21.13
See the lights of Toronto on a one-hour evening sightseeing cruise on Toronto's Inner Harbour. While you cruise the Inner Harbour and its picturesque island lagoons, you'll watch as Toronto lights up for the evening in a fantastic light show.
---
Duration:
90 minutes
From:
USD 21.17
Join the crew and live a Pirate's Life aboard the Island Rogue. Come dressed in your own costumes or borrow our vests, sashes and bandanas was you become a buccaneer. Complete the attire with face paint tattoos and a sea-farin' nick name. The captain readies the crew on shore as we embark aboard the vessel, leave the dock and sail around the inner lagoons of the Toronto Islands in search of sunken treasure. The live & interactive theatre is an experience where you find yourself on stage with crew partaking in every step of the adventure/show. The experience professional and is similar to that of a murder mystery dinner, Medieval times and the street buskers who engage and encourage audience participation.
---
Duration:
Flexible
From:
USD 23.88
See a different side to Toronto when on a one-hour sightseeing cruise along Toronto's Inner Harbour. Accompanied by informative commentary on the city's past and present, a harbour cruise is the best way to enjoy breathtaking views of Canada's most dynamic city, from towering skyscrapers to Toronto's famous island parklands and lagoons.
---
Duration:
2 hours
From:
USD 25.41
Discover two of Toronto's most colorful and multicultural neighborhoods on this small-group walking tour of Kensington Market and Chinatown. On this 2-hour tour, immerse yourself in both local and international culture as you wander the often bustling streets lined with unique vendors and specialty stores. Learn from your guide about the history of these areas and discover the best places to shop and eat.
---
Duration:
2 hours
From:
USD 29.64
Savor sweets from around the globe on this walking tour of Downtown Toronto's Kensington Market, a colorful multicultural neighborhood brimming with interesting locales. Chow down on Mexican churros, indulge in delicate handmade chocolate truffles, and try unique sweets such as Chinese egg tarts and Middle Eastern 'baklava.' Throughout your easy stroll, you'll learn about Toronto's food history from your expert guide. This small-group tour is limited to 10 people, ensuring a more personalized experience.
---
Duration:
Flexible
From:
USD 33.46
Experience the sights, sounds and history of multi-cultural Toronto at your speed, on your time. Your ticket on the Toronto City Hop-on Hop-off Tour allows you to see the city with professional drivers and commentary, all the while giving you the complete flexibility to visit some of Toronto's sights, major attractions, shopping areas or unique cultural districts.
---
Duration:
3.5 hours
From:
USD 36.42
On this small-group walking tour, explore the historical streets of Old Toronto and learn how beer has played an important role in Toronto's past. Taste some of Canada's finest regional craft brews and visit three classic pubs, plus discover Toronto specialties at the famous St Lawrence Market.
---
More Things to do in Toronto, including Tours, Layover, and Overnight Ideas
More Toronto Pearson Airport Transfer & Airport Connection Options