Things To Do in Toronto & Toronto Pearson Airport Layover Ideas
Things to do in Toronto if you have a Toronto Pearson Airport Layover or Extended Toronto Pearson Airport Stopover
If you have an extended layover at the Toronto Pearson Airport or staying in town, why not consider getting out with some fun activities? We list a few here and there are many more on
Toronto.LayoverIdeas.com
.
Pearson Airport is Canada's largest and busiest airport and is well equipped to keep travellers busy during lengthy layovers. If you prefer to leave the airport and experience some of your transit city, you can stash your luggage with Travel Store in terminals 1 and 3.
Distillery District
If you are looking to experience something unique to Toronto, why not head down to the Distillery district. This area, painstakingly restored to lure you into Victorian times, is the heart of Toronto's art, culture and entertainment. Opened in 2003 the Distillery District is sure to have something to offer for everyone. If you are short on time and don't know where to start you can take an organised tour which will immerse you in the areas history for the hour long tour.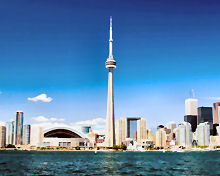 CN Tower
As the tallest free standing structure in the Western Hemisphere and the second tallest in the world, the CN tower is a sight to behold. Located in downtown Toronto, the CN tower is certainly worth the journey from YYZ Toronto Pearson International Airport, you can hop in the Sky Pod and be carried up to the 447metre level for a breathtaking 360 degree view of Toronto, or you can relax while taking in the view from the revolving restaurant with exquisite food and an unbelievable dining experience.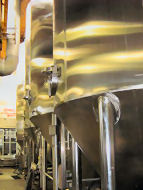 Steam Whistle Brewery
If you are keen to discover how Canada's Premium Pilsner is made why not take a tour of the Steam Whistle Brewery. Located not far from the CN Tower in downtown Toronto, this could make for an interesting diversion from awaiting your onward flight. On a tour of the brewery you will learn why it was designated one of Toronto's 'Green Buildings' and about their railway history. Definitely something to keep in mind if you are on a layover at YYZ Toronto Pearson International Airport.
Woodbine Shopping Centre and Fantasy Fair
Woodbine Shopping Centre has a bit of everything from fine dining eateries to fast food, haute couture to family stores and, if you prefer to kick back with a movie, you can do that here too. On top of all this shopping madness there is also the Fantasy Fair which will keep children and adults entertained for hours. Note that the Woodbine Centre is located in nearby Etobicoke (not Toronto).
Art Gallery of Ontario
The Art Gallery of Ontario is the largest art gallery in Canada, recently redesigned by architect Frank Gehry. It has a great Canadian paintings exhibit and the world's largest collection of Henry Moore sculptures. The European paintings exhibit has a few excellent pieces and it has one of the world's most expensive paintings on view (including Ruben's The Massacre of the Innocents). Closed Mondays.
Royal Ontario Museum
The Royal Ontario Museum is one of the better and larger museums in North America. The original building was built in 1910, and is a handsome romanesque revival, with many carvings of people and events. The newer addition is a large deconstructivist crystal, made of steel and glass. Thousands of artifacts and specimens are featured in over 20 exhibits; including dinosaurs, Ancient China, native Canadians, medieval Europe, art deco, ancient Egypt, textiles, middle east, India and Pacific islanders. The world's largest totem pole, which is over 100 years old, is also housed in a place of honour.

As always, make sure you leave plenty of time to get back to the Pearson Airport in time for your connecting flight. Enjoy your transit city rather than whiling away the time leaning up against your luggage in the departures lounge.
Toronto Attractions
Duration:
60 minutes
From:
USD 7.80
Immerse yourself in Canada's automotive history with a 1-hour guided tour of the Canadian Automotive Museum. Knowledgeable guides will introduce you to uniquely Canadian vehicles and the personalities behind them. The tour covers over a century of innovation with over 75 cars, trucks, and motorcycles on display.
---
Duration:
Flexible
From:
USD 13.26
No trip to Toronto is complete without a visit to the Royal Ontario Museum, Canada's largest museum of world cultures and natural history. Explore stunning galleries of dinosaurs, Canada's First Peoples, ancient Egypt, minerals and gems, and more. With world-class shopping and dining and breathtaking architecture, the ROM is your gateway to the world.
---
Duration:
Flexible
From:
USD 14.04
Experience the game that defines Canada and a sport that has been adopted by over 70 countries. Try your hand at goaltending, shooting, play-by-play calling, and even hosting your own sports broadcast. Revel in the world's greatest collection of hockey artifacts and get hands-on access to the coveted Stanley Cup.
---
Duration:
90 minutes
From:
USD 15.41
Experience an unforgettable 90-minute walking tour of Toronto! The Original Haunted Walk is led by the best of local storytellers, dramatists and amateur historians. They share some of the most hair-raising and spine-chilling real-life ghost stories from the area as they lead you by lantern light to their favorite haunted spots. Are you afraid of the dark' You will be.
---
Duration:
Flexible
From:
USD 16.37
Rock your senses with a prix-fixe menu at the Toronto Hard Rock Cafe. Classic American cooking comes to the heart of Ontario, where you'll enjoy a 2- or 3-course meal with your choice of theme: Blue Grass, Hip Hop, Rhythm and Blues or Jazz. Each option comes with a drink (coffee, tea or soda) and dessert. Expect entrees like the classic cheeseburger, a half-rack of hickory-smoked ribs, salmon, steak and even some vegetarian options. Love All - Serve All!
---
Duration:
60 minutes
From:
USD 16.75
<p>Strike out on foot with your knowledgeable guide and tour Toronto's Distillery District. Spend an hour enthralled by stories of business intrigue, a drunk city and the company that became the world's largest distillery.</p>
---
Duration:
Flexible
From:
USD 17.15
Spend the day at LEGOLAND® Discovery Centre Toronto for 15 action-packed attractions that encourage the whole family to build, play and learn in the LEGO realm. Try engineering a LEGO tower to survive an earthquake; identify models of some of Toronto's popular landmarks in MINILAND; or learn how LEGO bricks are made in the LEGO Factory. And don't miss the 4D cinema for a movie like nothing else! <span class='vSpecial'><p>Special Offer - Price displayed includes a 11% discount off the local admission price! - Book Now!</p></span>
---
Duration:
60 minutes
From:
USD 18.51
<p>Looking for a fun indoor activity or an&nbsp;original thrilling experience that can be enjoyed by the entire&nbsp;family' &nbsp;Come shoot each other&nbsp;with a real bow and safety-patented foam arrows at Archery District Toronto. This is a completely safe, kid-friendly, and supervised by professionals. &nbsp;No archery experience required!</p>
---
More Things to do in Toronto, including Tours, Layover, and Overnight Ideas
More Toronto Pearson Airport Transfer & Airport Connection Options