Things To Do in Bangkok & Bangkok Suvarnabhumi Airport Layover Ideas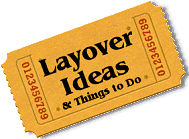 Things to do in Bangkok if you have a Bangkok Suvarnabhumi Airport Layover or Extended Bangkok Suvarnabhumi Airport Stopover
If you have an extended layover at the Bangkok Suvarnabhumi Airport or staying in town, why not consider getting out with some fun activities? We list a few here and there are many more on
Bangkok.LayoverIdeas.com
.
Bangkok Suvarnabhumi Airport is the third largest terminal in the world and is the main entry point for all international flights into Bangkok. Most visitors to Thailand enter the country via BKK Bangkok Suvarnabhumi International Airport and this means that travellers awaiting onward connections are regularly left at a loose end. Here are some ideas to keep you busy on a layover at BKK Bangkok Suvarnabhumi International Airport.
Temple of the Reclining Buddha (Wat Pho)
Most famous for the enormous reclining Buddha housed here, the Temple of the Reclining Buddha is also the oldest temple in Thailand and is home to the greatest number of Buddha images in the country. If you are looking for a real visual experience of Thailand while you await your onward journey, this temple is a good place to start. The temple is a short taxi ride from BKK Bangkok Suvarnabhumi International Airport and if you are short on time this is the best way to get there and back. Make sure you leave plenty of time for traffic congestion.
The Grand Palace
Just a short walk from the Temple of the Reclining Buddha is The Grand Palace. This palace is no longer the royal residence and is only used for the occasional ceremony. The reverence for the monarchy in Thailand led to the royals moving out of the official residence after the mysterious death of King Rama VIII (the older brother of the current King) who was found shot dead in his room in 1946. Visitors are allowed inside the spacious European style reception room, but remember, even today this story is a completely taboo subject in Thailand.
At the Bangkok Suvarnabhumi Airport
If you are short on time, or prefer not to leave the airport vicinity there is still plenty to keep you busy at Bangkok Suvarnabhumi Airport. You can get a Thai massage, luxuriate in the spa or even have a round of golf at the airport hotel Novotel Suvarnabhumi, or you can indulge in some duty free shopping and then get some refreshments at one of over 50 dining venues. If sleep is the only thing you need between flights the 600 room Novotel Suvarnabhumi will be the most comfortable choice.
Banglamphu market
Bangkok is not short of markets selling everything from fresh produce to household goods, not to mention everything the backpacker could possibly need. Banglamphu Market is still mostly frequented by locals and the prices are cheaper than some of the other more touristy markets like Patpong night market. If you are looking for some cheap clothes, fabrics and textiles then Pratunam market is also a great place to visit.
As always, make sure you leave plenty of time to get back to BKK Bangkok Suvarnabhumi International Airport in time for your connecting flight. Enjoy your transit city rather than whiling away the time leaning up against your luggage in the departures lounge.
Bangkok Attractions
Duration:
2 hours 30 minutes
From:
USD 27.26
Stroll back in time in the Bang Rak district of Bangkok during a 2.5-hour walking tour. Located on the Chao Phraya River, Bang Rak was once a hub for European, Chinese and Muslim traders, who settled there centuries ago. Walk through the communities that developed along Charoen Krung Road, and see historical landmarks like Assumption Cathedral, Old Customs House and the first European embassies. Meet locals at small family-run businesses, and learn about diverse local cultures. Limited to 12 people, this tour provides a small-group experience with a guide.
---
Duration:
2 hours 30 minutes
From:
USD 27.26
Go off the beaten track to explore Talat Noi, one of the oldest neighborhoods in Bangkok's Chinatown, on a 2.5-hour walking tour with a knowledgeable guide. Hear the history of this fascinating community as you wind through alleyways that bustle with small shops, vendor carts, shrines and even a Gothic church. Discover places that most visitors never see, and marvel at how the old world lives alongside the new. You'll also try some tasty snacks along the way on this small-group tour limited to 12 people.
---
Duration:
3 hours
From:
USD 30.62
This relaxed afternoon 2.5-hour Bangkok cruise will allow you to observe Thai people going about their everyday business in the 'The Venice of the East'.
---
Duration:
3 hours
From:
USD 33.07
This wonderful evening dinner tour in Bangkok will surround you with a truly Thai ambiance. Sit back and enjoy Thai food and dance.
---
Duration:
3 hours
From:
USD 33.69
Immerse yourself in the heart of Thai culture on a half-day Bangkok temple tour. Visit Wat Pho, known as the birthplace of traditional Thai medicine and healing, Wat Tramit with its beautiful solid gold Buddha and Wat Benchamabophit, one of the gems in Thailand's temples, with ornate Italian marble carvings.
---
Duration:
3 hours 30 minutes
From:
USD 33.69
Explore the Chao Phraya riverside of Thonburi on a 3.5-hour guided walking tour. Ride a boat to the Tha Din Daeng district of Bangkok and sample local street food; explore back streets and riverside paths on foot; and pass by Thai temples, Chinese shrines, churches and mosques as you gain insight into the area's diverse local cultures. Expect to see Princess Mother Memorial Park and Wat Kalayanamit along the way! Numbers are limited to 10 people, ensuring a personalized experience with a small group.
---
Duration:
4 hours
From:
USD 33.69
Sure, you can hit all the temples you want in one day. You can eat banana pancakes with backpackers on Khao San Road. And you can visit the floating markets. But seeing the real Bangkok, the one that locals know and a lot of tourists don't' For that you'll have to hop on a bike. This 4-hour guided bike tour brings you down the backstreets and to street food venders serving up delicious snacks you'd never find on your own. This is a small group tour, which means more attention from the guide.
---
Duration:
4 hours
From:
USD 35.22
See a different side of Bangkok on this 4-hour bike tour at night, when Buddhist temples are more radiant, the streets are less trafficked, the air is a little cooler, and backstreets are teaming with locals eating, drinking and gossiping. Visit Wat Arun and Wat Pho in their peaceful nighttime settings, explore the famous Pak Khlong Talat flower market and sample some street food, all the while learning the history of your surroundings from your local guide. Numbers are limited to 10 on this small-group tour, ensuring a more personalized experience.
---
More Things to do in Bangkok, including Tours, Layover, and Overnight Ideas
More Bangkok Suvarnabhumi Airport Transfer & Airport Connection Options