Things To Do in Bangkok & Bangkok Suvarnabhumi Airport Layover Ideas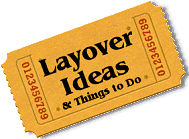 Things to do in Bangkok if you have a Bangkok Suvarnabhumi Airport Layover or Extended Bangkok Suvarnabhumi Airport Stopover
If you have an extended layover at the Bangkok Suvarnabhumi Airport or staying in town, why not consider getting out with some fun activities? We list a few here and there are many more on
Bangkok.LayoverIdeas.com
.
Bangkok Suvarnabhumi Airport is the third largest terminal in the world and is the main entry point for all international flights into Bangkok. Most visitors to Thailand enter the country via BKK Bangkok Suvarnabhumi International Airport and this means that travellers awaiting onward connections are regularly left at a loose end. Here are some ideas to keep you busy on a layover at BKK Bangkok Suvarnabhumi International Airport.
Temple of the Reclining Buddha (Wat Pho)
Most famous for the enormous reclining Buddha housed here, the Temple of the Reclining Buddha is also the oldest temple in Thailand and is home to the greatest number of Buddha images in the country. If you are looking for a real visual experience of Thailand while you await your onward journey, this temple is a good place to start. The temple is a short taxi ride from BKK Bangkok Suvarnabhumi International Airport and if you are short on time this is the best way to get there and back. Make sure you leave plenty of time for traffic congestion.
The Grand Palace
Just a short walk from the Temple of the Reclining Buddha is The Grand Palace. This palace is no longer the royal residence and is only used for the occasional ceremony. The reverence for the monarchy in Thailand led to the royals moving out of the official residence after the mysterious death of King Rama VIII (the older brother of the current King) who was found shot dead in his room in 1946. Visitors are allowed inside the spacious European style reception room, but remember, even today this story is a completely taboo subject in Thailand.
At the Bangkok Suvarnabhumi Airport
If you are short on time, or prefer not to leave the airport vicinity there is still plenty to keep you busy at Bangkok Suvarnabhumi Airport. You can get a Thai massage, luxuriate in the spa or even have a round of golf at the airport hotel Novotel Suvarnabhumi, or you can indulge in some duty free shopping and then get some refreshments at one of over 50 dining venues. If sleep is the only thing you need between flights the 600 room Novotel Suvarnabhumi will be the most comfortable choice.
Banglamphu market
Bangkok is not short of markets selling everything from fresh produce to household goods, not to mention everything the backpacker could possibly need. Banglamphu Market is still mostly frequented by locals and the prices are cheaper than some of the other more touristy markets like Patpong night market. If you are looking for some cheap clothes, fabrics and textiles then Pratunam market is also a great place to visit.
As always, make sure you leave plenty of time to get back to BKK Bangkok Suvarnabhumi International Airport in time for your connecting flight. Enjoy your transit city rather than whiling away the time leaning up against your luggage in the departures lounge.
Bangkok Attractions
Duration:
8 hours
From:
USD 10.06
Get a personalized day tour of Bangkok or neighboring provinces for a unique look at Thai culture and lifestyle. Your fully licensed local guide works with you to tailor a trip that can include the Summer Palace, Floating Market and much more.<br /><br />The price includes the service of the guide and all transportation costs and any meals are extra.
---
Duration:
3 hours
From:
USD 12.50
Spend your evening at leisure and enjoy a delicious genuine Thai style dinner in a delightful Thai atmosphere surrounded by beautiful decoration. The meal is accompanied by Thai classical music and dances. The dancers with their beautiful glittering costumes and exquisite graceful movements will stay in your memory forever.
---
Duration:
2 hours
From:
USD 17.25
Join this wonderful 2-hour cycling tour through the streets of Bangkok. See attractions such as the Old Customs House, Holey Rosary Church, Wat Thong Thammachat and more. Enjoy the relaxed pace that is suitable for all experience levels.
---
Duration:
Flexible
From:
USD 19.99
This fascinating audio tour of the energetic city of Bangkok will guide you through the narrow streets where you will see amazing Buddhist Temples and learn about the colorful history of Thailand. Enjoy this self-guided audio tour at your own pace.
---
Duration:
2 hours
From:
USD 20.13
Join this tour for the unique opportunity to learn the foundations of Muay Thai. Train with an experienced instructor. After training, enjoy a delicious meal of Pad Thai and freshly pressed juice. Train Muay Thai, Eat Pad Thai!
---
Duration:
90 minutes
From:
USD 20.99
Muay Thai Live The Legend Lives presents Muay Thai's greatest hero. From the origins to present day, tales are artfully woven together in this spectacular show.
---
Duration:
3 hours
From:
USD 21.56
This 2 kilometer walk takes you to some interesting areas in Bangkok, and get you up close to where the locals live and how they spend their daily lives. You will see local neighborhoods with a multicultural vibe. We take a stop at a local bakery and but some samples and enjoy with a drink.
---
Duration:
3 hours
From:
USD 22.25
Nanta is a comic non-verbal musical show derived from the traditional Korean instrumental performance Samulnori. With a kitchen as its background, knives and other utensils are transformed into musical instruments in the hands of the performers. The chefs thrill the audience with acrobatic cooking shows, a surprise wedding ceremony, and an exciting dumpling challenge. Nanta is being absolutely recommended for tourists.
---
More Things to do in Bangkok, including Tours, Layover, and Overnight Ideas
More Bangkok Suvarnabhumi Airport Transfer & Airport Connection Options