Things To Do in Honolulu & Honolulu Airport Layover Ideas
Things to do in Honolulu if you have a Honolulu Airport Layover or Extended Honolulu Airport Stopover
If you have an extended layover at the Honolulu Airport or staying in town, why not consider getting out with some fun activities? We list a few here and there are many more on
Honolulu.LayoverIdeas.com
.
The HNL Honolulu International Airport is well located for enjoying a bit of Honolulu or Waikiki if you have some extra time.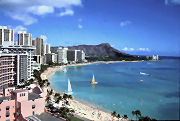 Hit the Beach
Naturally, when most visitors think of beaches here, they think of the famous Waikiki Beach. As the tourist center of the Hawaiian Islands, this white sand beach, framed by hotels and Diamond Head as a backdrop, is easily the most crowded. Waikiki is popular with a wide crowd, as it's a excellent place for swimming, sunbathers, catamaran and outrigger canoes, as well as a great spot for beginner surfers and body boarders (and there are plenty of surf schools set up in Waikiki for lessons). What's remarkable is that even in Waikiki you can find a fairly quiet beach; it's just a matter of knowing where to look.
But if you really need to get away from the crowds, there are plenty of other beaches. Just to the west, near Downtown, is Ala Moana Park, a green space with plenty of trees and grass as well as an nice sandy beach that's popular with the locals and is perfect for families or a calmer swim.
Climb Diamond Head
It's Hawai'i, so there's no shortage of natural scenery, even near the big city. For those looking for expansive vistas, Diamond Head is a good starting point - this ancient volcanic crater dominates over Waikiki and the top offers an incredible view over the city. The trail leads up into a World War II-era bunker and up some steep staircases (one of over 100 steps), so the climb can be a little rough for the average couch potato.
See the Pearl Harbor Memorials
Pearl Harbor, located in Western Honolulu, is well-remembered for 7 December 1941, a day that lived in infamy, when an attack by Japanese forces killed over 2,000 personnel and brought the U.S. military into World War II. Today the harbor, still functioning as a navy base, is the site of several memorials honoring the fallen of that day and the rest of the war. The centerpiece is the USS Arizona Memorial, which was built over the sunken hull of the USS Arizona battleship; the resting place of many who died that day. The memorial itself is accessed after an introductory movie and a short ferry ride, and lists the names of those lost as well as a chance to view the wreck.
Visit a Museum or Gallery
Of all the museums in Honolulu, none approach the size of the Bishop Museum in Western Honolulu; a complex of buildings with a large collection of Hawaiian artifacts. Much of the museum is dedicated to Hawaiian history, with a growing number of science-based exhibits, including a planetarium, a large natural history hall, and an area centered around volcanology. The museum is huge, so give yourself a few hours to take it all in.
Downtown Honolulu is home to several museums. On the state capitol grounds is the gorgeous `Iolani Palace, which was the official residence of the Hawaiian Kingdom's last two monarchs and is now open for tours. Nearby is the Mission Houses Museum, which has three 19th century Honolulu houses restored for viewing, and the Hawaii State Art Museum, which displays visual art by Hawaii artists.
The Makiki area of town has two major art museums worth a look: the Honolulu Academy of Arts is the largest art museum in the city and houses one of the largest collections of Asian art in the United States, along with an impressive Western collection to boot, including Van Gogh, Picasso, Gauguin, Cezanne, Monet, Modigliani and other masters. Just up the hill is the Contemporary Museum, which occupies an old estate overlooking the city and is devoted exclusively to contemporary art.
As always, make sure you leave plenty of time to get back to HNL Honolulu International Airport and clear security in time for your connecting flight. Enjoy your transit city rather than whiling away the time leaning up against your luggage in the departures lounge.
Honolulu Attractions
Duration:
2 hours
From:
USD 7.50
All visitors are encouraged to take the National Park Service's official "USS Arizona Memorial Narrated Tour". This award winning, two hour self guided tour provides you an enriching Pearl Harbor experience and is like having a park ranger escort you through the visitor center's two museums on the memorial and along the shoreline for the 'Path of Attack' tour. This audio tour is a "Must Do Activity' at the Visitor Center and is hosted by the famous actress-Jamie Lee Curtis, the National Park Service's historians and dozens of Pearl Harbor Survivors.
---
Duration:
60 minutes
From:
USD 12.00
The USS Bowfin Submarine Museum and Park is conveniently located within the Pearl Harbor Visitor Center. This incredible destination offers to two separate tours - the USS Bowfin Submarine Tour and the Submarine Museum Tour, both come with complimentary audio tours and are included in the price of admission.
---
Duration:
2 hours
From:
USD 14.00
The Diamond Head State Monument is the third largest attraction on Oahu, with over 1,000,000 annual hikers. Conveniently located near Waikiki, it provides visitors a fun Hawaiian outdoor adventure. Hikers are rewarded when they get to the summit of Diamond Head with breathtaking and spectacular views of Oahu. The hike up Diamond Head is considered a 'moderate hike' and takes approximately 2 hours. <br><br><br><br>
---
Duration:
5 hours
From:
USD 15.00
The Waikele Outlet Shopping Shuttle provides savvy shoppers quality transportation to and from Waikele Premium Outlets® from Waikiki. Let us worry about traffic, gas and parking. Shoppers just need to sit back and relax in our plush air conditioned motor coaches that will pick you up at one of the convenient locations throughout Waikiki. You will be transported to the Waikele Premium Outlets® where savvy shoppers from around the world and our islands can find great savings at Hawaii's largest outlet center. Returning to Waikiki is even easier with our wonderful drivers picking you and your shopping treasurers up curbside.
---
Duration:
Varies
From:
USD 15.71
Enjoy the freedom and fun of exploring Oahu on a bike! With a bike rental, you can set your own itinerary and see the sights at your own pace. Oahu is filled with many bike lanes and trails, offering miles of cycling paths for you to pedal. With the warm breeze in your face, you'll get around quicker than you would on foot while admiring the picturesque scenery, historic monuments and cultural landmarks. And the coastline routes are a cyclist's paradise!
---
Duration:
3 hours
From:
USD 17.50
This is an official 3-hour tour at the Pearl Harbor and is one of the most popular tours approved by the National Park Service. This tour includes the USS Arizona Memorial Narrated Audio Tour and admission to the USS Bowfin Museum Submarine and Park. <br /><strong></strong>
---
Duration:
2 hours
From:
USD 20.00
The Arizona Package is the most popular program at the Pearl Harbor Visitor Center and is perfect for couples and parties of 2 or more. This tour includes two National Park Service USS Arizona Memorial Narrated Tours, the official Pearl Harbor Historic Site coffee mug, and the official Pearl Harbor Tote Bag. <br /><br /><em></em>
---
Duration:
2 hours
From:
USD 20.94
Nothing beats a Hawaiian sunset at sea. Enjoy a scenic cruise of the West Oahu coast, catching the moment the sun slips below the horizon – you may even see the green flash. Array of "pupus." Unlimited non-alcohol beverages. Two free bar drink tickets per adult; just $1 beer or $2 mixer for extras. 4:45 p.m. shuttle from Aulani, a Disney Resort & Spa at Ko Olina; Marriott's Ko Olina Beach Club, & Beach Villas at Ko Olina. No transportation is available from Waikiki
---
More Things to do in Honolulu, including Tours, Layover, and Overnight Ideas
More Honolulu Airport Transfer & Airport Connection Options