Things To Do in Vancouver & Vancouver Airport Layover Ideas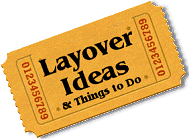 Things to do in Vancouver if you have a Vancouver Airport Layover or Extended Vancouver Airport Stopover
If you have an extended layover at the Vancouver Airport or staying in town, why not consider getting out with some fun activities? We list a few here and there are many more on
Vancouver.LayoverIdeas.com
.
Fairmont Vancouver Airport Hotel
If you don't want to go far and are really looking to unwind between flights then head over to the Fairmont Vancouver Airport Hotel. Located inside the Vancouver Airport, the Fairmont Vancouver offers a day pass to guests who want to make use of their extensive spa and gym facilities. With over 130 treatments to choose from you will be hard pressed not to enjoy yourself while you are waiting for your onward flight.
Vancouver Tour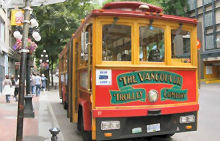 If you only have a short time, but want to see as many of the sights around Vancouver as possible, why not book yourself a Vancouver Tour? There are several options to choose from. The most popular offer hop-on hop-off convenience, and include all the top sights, including Stanley Park, Lion's Gate Bridge, Granville Island, Gastown and much more. A tour is also a great way to get a city overview, to identify areas to return to later in a longer vacation stay.
Chinatown and Dr. Sun Yat-Sen Classical Chinese Garden
Vancouver's Chinatown was settled by Chinese immigrants who came to Canada in the late 1800s to build the national railroad. Today's grocery and herbal medicine markets mimic the ethnic flavors, sights and sounds of Eastern Asia. If you are lucky enough to visit during Chinese New Year, you will find the area alive with festivities and a parade. If you visit during the summer, the Chinatown Night Market, styled after Asian marketplaces, is very popular activity (100 and 200 block Keefer Street, 6:30pm-11pm, Fri-Sun, summers).
Dr. Sun Yat-Sen Classical Chinese Garden is a Ming-dynasty style garden located in Chinatown. The gardens combines traditional Chinese buildings, plants, a small lake, and curved footpaths to create the illusion of a very big place within a single block.
Grouse Mountain
Just a 15 minute drive from downtown is one of Vancouver's greatest attractions: the Peak of Vancouver at Grouse Mountain. Here you will find activities to suit the season from skiing and snowboarding, ice skating and sleigh rides to the skyride and Vancouver's only zipline. For an active and adventurous layover head over to Grouse Mountain and you will find an activity to keep everyone happy.
Capilano Suspension Bridge
The Capilano Suspension Bridge is suspended 230 feet above the Capilano River and is definitely worth a look. There are a number of family activities in this area including the award winning Treetops Adventure, you can take a rainforest tour, and experience the culture of Vancouver's First Nation including traditional weaving and beadwork. If you prefer to relax over a good meal there are a number of dining facilities to choose from or you could choose to shop at the Trading Post for gifts and souvenirs.
Richmond Oval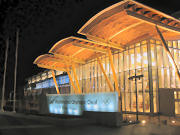 The Richmond Oval was the stunning venue for long track speed skating events during the 2010 Vancouver Winter Olympic Games. Situated on the banks of the Fraser River in the city of Richmond, the Oval has been transformed into its legacy purpose as an international centre of excellence for sports, health and wellness. Facilities include ice rinks, courts, a running track, paddling centre, climbing wall and fitness studios. The 23,000 square foot high-tech fitness facility is open to guests.
Take in a museum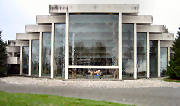 If you are looking for culture and history, Vancouver offers several outstanding museums:
The impressive Museum of Anthropology houses several thousand objects from BC's First Nations. The museum is also home to significant collections of archaeological objects and ethnographic materials from around the world.
The Vancouver Art Gallery, combines local with international through a variety of exhibitions and a permanent collection that focuses on renowned British Columbia artist, Emily Carr.
Situated on the east side of False Creek is the shiny geodesic dome of the Telus World of Science (commonly known as Science World), which has a number of exhibits, shows and galleries aimed at making science fun for kids.
The BC Sports Hall of Fame and Museum, located at Gate A of BC Place Stadium, preserves and honours BC's Sport heritage by recognizing extraordinary achievement in sport, and uses the collection and stories to inspire all people to pursue their dreams.
In Kitsilano, near downtown, there are 3 gems: the Vancouver Maritime Museum, the Museum of Vancouver, and the H.R. Macmillan Space Centre.
As always, make sure you leave plenty of time to get back to the Vancouver Airport in time for your connection and enjoy your layover city rather than whiling away the time leaning up against your luggage in the departures lounge.
Vancouver Attractions
Duration:
Ticket valid for 24 or 48 hours
From:
USD 12.70
Hop aboard the AquaBus Ferry in Vancouver to take advantage of all that False Creek has to offer! Hop off at eight top destinations along False Creek such as Granville Island, Yaletown, The Village and Hornby Street. Shop, dine and sightsee at your own pace, and enjoy beautiful waterfront views along the way.
---
Duration:
Flexible
From:
USD 13.34
Catch unbeatable views from the Vancouver Lookout, the most iconic landmark in Vancouver. From the Harbour Center's panoramic observation deck, enjoy 360-degree views of Gastown, Coal Harbour, Stanley Park, the majestic North Shore Mountains and the Olympic Peninsula Mountains, and browse the educational exhibits to learn about Vancouver's past, present and future.
---
Duration:
25 minutes
From:
USD 17.74
Fly high above Canada's stunning landscapes on a simulated flight ride the longest one in the world at 8 minutes. Inside a high-dome screen, hang on to your seat as you careen over snowcapped peaks and zoom across green valleys. Feel like you're really there as the wind, mist and woodsy aromas fill your senses. Get to know the history and people of Canada during a preflight presentation. The entire experience lasts 25 minutes, a perfect, wallet-friendly activity for families and first-time visitors to Canada.
---
Duration:
1 day
From:
USD 17.79
Vancouver is known for its cosmopolitan art galleries, especially the iconic Vancouver Art Gallery, which has more than 10,000 pieces in its permanent collection alone. So it's no surprise that the gallery's lines tend to snake around the corner from the entrance. Instead of wasting precious travel time tapping your foot on the ground, take advantage of an expedited entry with this pass. You'll breeze past the line, which means more time to explore, and have the option of a private early access tour with a guide.
---
Duration:
90 minutes
From:
USD 19.06
Create your own itinerary and set your own timetable with an option of a one-day or two-day ticket on the Vancouver City Hop-on Hop-off Tour. Travel on an open-top or double-decker bus as you tour the beautiful city of Vancouver. Get on and off as you please at any of the 20 plus stops, which includes major attractions such as Chinatown, Stanley Park and Gastown.
---
Duration:
Varies
From:
USD 21.17
Travel back in time and experience what it was like to be a miner with a visit to the famous Britannia Mine Museum. Situated between Vancouver and Whistler is Britannia Mine, British Columbia's historic copper mine community in the 1900s. This award-winning museum will give you an in-depth look at mining throughout the years. General admission tickets also include gold panning, plus a ride deep into a real mine!
---
Duration:
Varies
From:
USD 29.31
Go from the sea to the sky with this fantastic gondola ride in Squamish, 40 miles (65 km) from Vancouver. Opened in May 2014, the Sea to Sky Gondola is an incredible attraction, sure to amaze even the most hardened traveler. And it's in Squamish, which CNNMoney.com has called the top mountain town to visit in North America. Get lifted to the top of the mountain for soaring views of the coniferous-forest-clad mountains.
---
Duration:
3 hours
From:
USD 29.64
Join this walking tour of Vancouver for a great up-close view of this amazing Canadian city. Your expert local guide will lead you along the seawall and through the Coal Harbour district, where you'll enjoy views of the Vancouver skyline, Vancouver Harbour and the surrounding mountains. You'll also explore vast Stanley Park to see wildlife and experience native village culture.
---
More Things to do in Vancouver, including Tours, Layover, and Overnight Ideas
More Vancouver Airport Transfer & Airport Connection Options