Vancouver Airport Stopover Tours & Vancouver Layover Ideas
Suggestions for things to do in Vancouver if you have a Vancouver Airport Stopover or Extended Vancouver Airport Layover
With the Canada Line waiting to zip you into downtown Vancouver in under 25 minutes, you can explore a little bit of your transit city even on a fairly short layover.
Fairmont Vancouver Airport Hotel
If you don't want to go far and are really looking to unwind between flights then head over to the Fairmont Vancouver Airport Hotel. Located inside the Vancouver Airport, the Fairmont Vancouver offers a day pass to guests who want to make use of their extensive spa and gym facilities. With over 130 treatments to choose from you will be hard pressed not to enjoy yourself while you are waiting for your onward flight.
Vancouver Tour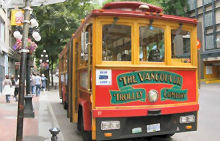 If you only have a short time but want to see as many of the sights around Vancouver as possible why not book yourself a Vancouver Tour. The Vancouver Trolley Company offer a hop-on hop-off tour with a number of packages to choose from. The double-decker Big Bus tours take you around Vancouver with the option to hop off if there is somewhere you want to spend more time in and Vancouver City Highlights Tour take you on a tour of all the best parts of Vancouver with friendly guides to tell you all about the sights.
Grouse Mountain
Just a 15 minute drive from downtown is one of Vancouver's greatest attractions: the Peak of Vancouver at Grouse Mountain. Here you will find activities to suit the season from skiing & snowboarding, ice skating and sleigh rides to the skyride and Vancouver's only zipline. For an active and adventurous layover head over to Grouse Mountain and you will find an activity to keep everyone happy.
Capilano Suspension Bridge
The Capilano Suspension Bridge is suspended 230 feet above the Capilano River and is definitely worth a look. There are a number of family activities in this area including the award winning Treetops Adventure, you can take a rainforest tour, and experience the culture of Vancouver's First Nation including traditional weaving and beadwork. If you prefer to relax over a good meal there are a number of dining facilities to choose from or you could choose to shop at the Trading Post for gifts and souvenirs.
Metropolis at Metrotown
British Columbia's largest shopping destination, Metropolis at Metrotown, has nearly 500 stores to help you satisfy your need for retail therapy. There are also plenty of restaurants, theatres and courtyards to keep you fed, entertained and relaxed while you wait to head back to the airport. The Metropolis is easily accessible with the SkyTrain which will ensure you are not stuck in traffic on your trip to or from the airport.
As always, make sure you leave plenty of time to get back to the Vancouver Airport in time for your connecting flight and enjoy your transit city rather than whiling away the time leaning up against your luggage in the departures lounge.
Vancouver Attractions
Duration:
13 hours
From:
USD 280.34
While you're in port in Vancouver, this private and personalized guided shore excursion is the most fun and relaxing way to travel and see Victoria. Not having to worry about crowded bus tours allows you to simply relax and enjoy the natural beauty of this city. Victoria, often referred to as the garden city, is full of history, old world charm and elegance.
---
Duration:
3 hours
From:
USD 77.70
Vancouver is known for its robust food culture, so during your time here, treat your taste buds to some of Vancouver's most delicious gourmet foods. This 3-hour small-group lunch tour showcases the city's best foods and includes gourmet creations from world-class chefs and artisans. Enjoy five full courses including dim sum and pulled pork, plus drinks and dessert, like local craft beers, wine, gelato and more.
---
Duration:
Varies
From:
USD 24.21
Travel back in time and experience what it was like to be a miner with a visit to the famous Britannia Mine Museum. Situated between Vancouver and Whistler is Britannia Mine, British Columbia's historic copper mine community in the 1900s. This award-winning museum will give you an in-depth look at mining throughout the years. General admission tickets also include gold panning, plus a ride deep into a real mine!
---
Duration:
3 hours
From:
USD 23.56
Join this walking tour of Vancouver for a great up-close view of this amazing Canadian city. Your expert local guide will lead you along the sea wall and through the Coal Harbour district, where you'll enjoy views of the Vancouver skyline, Vancouver Harbour and the surrounding mountains. You'll also explore vast Stanley Park to see wildlife and experience native village culture.
---
Duration:
Flexible
From:
USD 37.95
Treat yourself to the ultimate sensory experience this holiday season at Vancouver's famous Capilano Suspension Bridge Park! Enter a spectacular winter wonderland filled with dazzling Christmas lights and decorations as you cross the bridge, walk through the forest and admire bird's-eye views from the glass-bottom Cliffwalk. Enjoy holiday activities like glass blowing and cookie decorating, perfect for the whole family!
---
Duration:
6 hours
From:
USD 206.57
On your day in port in Vancouver, breathtaking views, a fun gondola ride and fascinating attractions for any time of the year await you on this private and personalized shore excursion to Grouse Mountain. The perfect family adventure for visitors to Vancouver, Grouse Mountain is Vancouver's very own alpine playground overlooking the city.
---
Duration:
2 hours
From:
USD 45.03
The Pacific Northwest is famous for its amazing food, and Granville Island is one of Vancouver's most popular destinations for foodies! On this 2-hour small-group tour, explore the ins and outs of the island's famous food market, the Granville Island Public Market. As you peruse the diverse array of vendors, your professional local guide will give you insider tips about all that the market has to offer. Sample seasonal and regional delicacies, learn about cooking and food preparation, and experience the Granville Island Public Market like a true local!
---
Duration:
2 days
From:
USD 447.33
Want to spend more than a day discovering the delights of the capital of British Columbia? This tour includes a ferry to Victoria, a float plane flight back to Vancouver, admission into Butchart Gardens and overnight accommodation at a 4-star centrally-located Victoria hotel; a great value that will allow you plenty of time to explore this beautiful city.
---
More Things to do in Vancouver, including Tours, Layover, and Overnight Ideas
More Vancouver Airport Transfer & Airport Connection Options